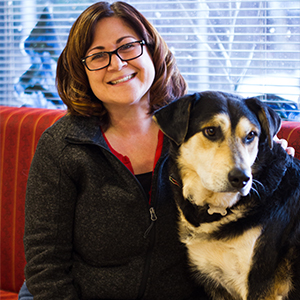 Erin Behan – Practice Manager
Erin joined Boston Animal Hospital in September 2016 with an extensive background in veterinary medicine spanning nearly 20 years. She is committed to providing exemplary physical and emotional care for patients and their families. Erin has worked in General Practice, Emergency and Surgery as a technician, Front Desk Coordinator, Technician Supervisor, and Office Manager. She lives in southern New Hampshire with her teenage daughter, 2 cats Skippy and Bailey and rescue pup Sammy, who can usually be found sleeping under her desk at the hospital. Erin spends her spare time enjoying the beautiful lakes, mountains and beaches of New England.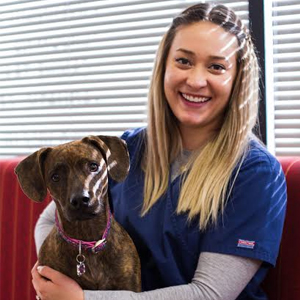 Alyssa – Head Veterinary Technician
Alyssa recently moved to Boston from Southern California where she attended Mt. Sac College majoring in Animal Science. She has worked in the veterinary field for over 5 years and has a special interest in pathology and surgical care. In her spare time, Alyssa enjoys hiking with her dog Cali, working out, and traveling.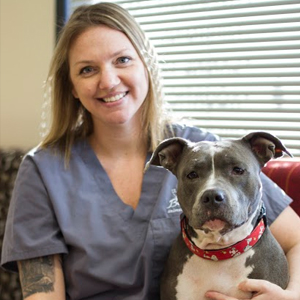 Jen – Veterinary Technician
Jen has had a passion for animals her entire life, and has worked in animal medicine for nearly two decades. She has a particular interest in small animal surgery and enjoys learning new techniques to better serve her patients. Jen has worked at Boston Animal Hospital since 2013 having moved here from Maryland. When not at work she is active in pitbull awareness and competes in AKC conformation. Jen is the proud mom to Bella, a beautiful blue American Staffordshire Terrier, a courageous Belgian Malinois, Katja who retired from the Police in 2017 and an adorable French Bulldog named Paisley.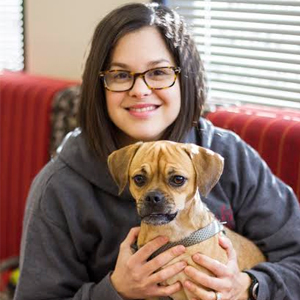 Ely – Veterinary Technician
Ely has spent ten years working in the veterinary field. She grew up with dogs and knew from a very young age that she wanted to spend her life caring for animals. She is passionate about helping provide a long and healthy life for all of her patients. She is especially interested in promoting good health through proper nutrition and maintains our line of veterinary diets. When not caring for patients, Ely enjoys spending time with her family, including her cat Mr. Blue and her puppy Jewel.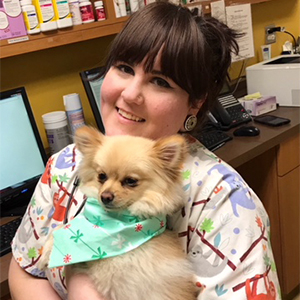 Deanna – Veterinary Technician
Deanna joined Boston Animal Hospital in April of 2017 with over 7 years of experience in the veterinary field. She brings an equal passion for working with animals and people, and loves the knowledge she continues to gain from working with both on a daily basis. When she's not at work, you can usually find Deanna cheering on one of our amazing Boston sports teams, traveling, doing yoga, or spending time with her sweet chocolate lab, Shwayze.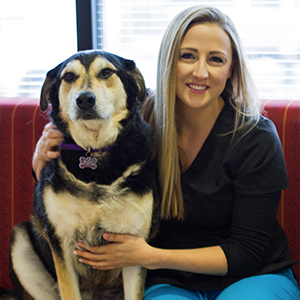 Sam – Veterinary Technician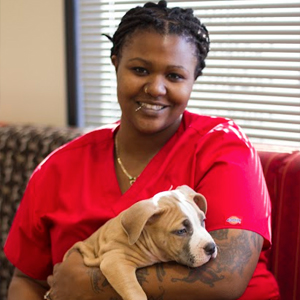 Danya – Veterinary Technician Assistant
Danya has worked in the animal field for 9 years, and most recently spent time transporting many of our furry friends for a fun day at Boston Red Dog. Danya loves interacting with all of our patients and their families. She has adored animals for as long as she can remember and is the staff winner for having the most pets of their own; two dogs, Boomy and Panda, and two cats, Momo and Laru.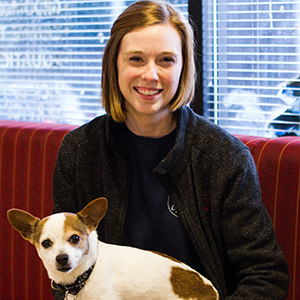 DeAnna Mae – Veterinary Technician Assistant
DeAnna Mae recently joined the Boston Animal Hospital Staff after working at The Red Dog Resort and Spa for most of 2017. She has both a bachelor's degree in biology and master's degree in Marine Biology. Through education and experience, DeAnna Mae has been committed to helping both land and sea mammals live longer and healthier lives for the past 6 years. She also regularly runs swim sessions at the Aquatic Center at Red Dog and volunteers her free time at local animal shelters.