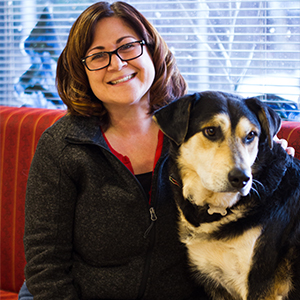 Erin Watson – Regional Practice Manager
Erin joined Boston Animal Hospital in September 2016 with an extensive background in veterinary medicine spanning over 25 years. She is committed to providing exemplary physical and emotional care for patients and their families. Erin has worked in General Practice, Emergency and Surgery as a technician, Front Desk Coordinator, Technician Supervisor, and Office Manager. She lives in southern New Hampshire with her human family and rescue pups Sammy and Millie, and enjoys spending time outdoors in the beautiful mountains, lakes and beaches of New England.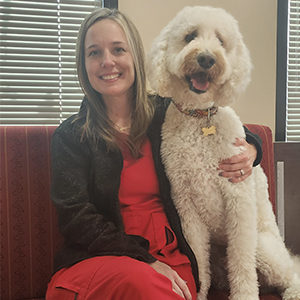 Lindsay Bryson – Practice Manager – Southampton Street Location
Lindsay joined our BAH team in March of 2022, bringing over 10 years of experience as both a technician and office manager at practices in both her home state of North Carolina, and the greater Boston area. Lindsay enjoys working with both our patients and their caregivers to provide an exceptional and collaborative experience. Her poodle mix, Nate, accompanies her to BAH each day and loves to greet our daily visitors at the front desk.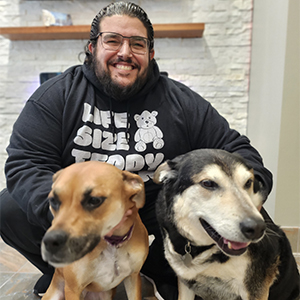 Johnny – Assistant Practice Manager
Johnny has worked in the veterinary field for over 10 years, after deciding early on that he wanted an "unusual" career. He joined BAH during the summer of 2018 as a veterinary technician and is particularly passionate about helping pet parents provide the best possible care for their pets. In addition to helping manage our North Station location, Johnny works in surgery, outpatient appointments, and at the front desk. When not at work, he enjoys spending time in the great state of Maine.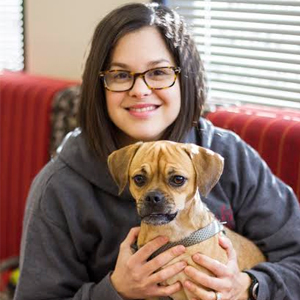 Ely – Veterinary Technician, Inventory Manager
Ely has spent the last 15+ years working in the veterinary field, and holds the title of BAH's longest staff member, celebrating 7 years in April of 2023. She grew up with dogs and knew from a very young age that she wanted to spend her life caring for animals. She is passionate about helping provide a long and healthy life for all her patients. She is especially interested in promoting good health through proper nutrition and preventative care. When not caring for patients, Ely enjoys spending time with her family, including her cat Mr. Blue and her puggle Jewel.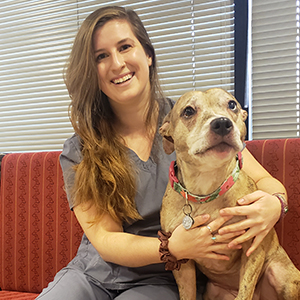 Julia – Veterinary Technician, Travel Liaison
After graduating from the University of Vermont in 2016 with a degree in Pre-Veterinary Sciences and Environmental Biology, Julia worked as a dairy management consultant for family farms around the Burlington, VT area. She joined BAH in the fall of 2019 as veterinary technician, and has become a Team Leader, as well as our resident Travel Liaison. Julia spends her spare time going snowboarding in the winter and camping around New England in the summer months. Her adventure sidekick is a Catahoula pittie-mix rescue pup named Daga, who has been romping by her side since 2014.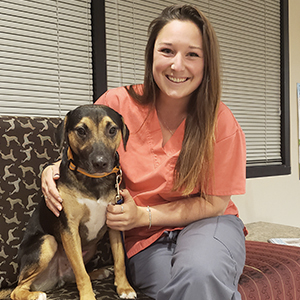 Olivia – Veterinary Technician
Olivia has been working in the veterinary field for over 4 years and has a passion for helping our clients and patients be the happiest and healthiest they can be. She is also interested in large animal medicine and hopes to continue her education in all aspects of the field. Before working at the hospital, she was a supervisor at the Boston Red dog pet resort and spa. In her free time, she enjoys cooking and taking Long Beach Walks with her handsome pup Zane.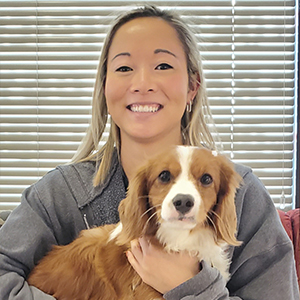 Lauren – Veterinary Technician
Lauren joined BAH in the summer of 2021 as a veterinary technician. Lauren chose the veterinary field after seeing the huge impact that pets have in people's lives. She obtained her associate degree in Veterinary Assisting and has grown tremendously in her profession, doing what she loves. In her free time, Lauren enjoys going to the gym, the beach, or enjoying the many fine restaurants Boston has to offer. She also loves snuggling her adorable Cavachon, Easton.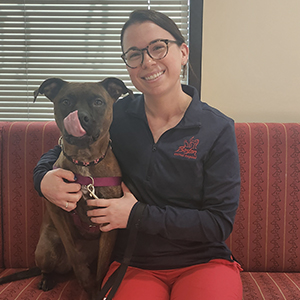 Kirsten – Veterinary Technician
Kirsten came to BAH in early 2022, after growing up with animals and a lifelong desire to make a career out of caring for them. Kirsten loves working with the team at BAH and considers it a privilege to work with people's pets every day. In her spare time, she enjoys spending time playing games or trying new restaurants with friends, or hiking and running with her energetic 2-year-old pittie mix, Ivy.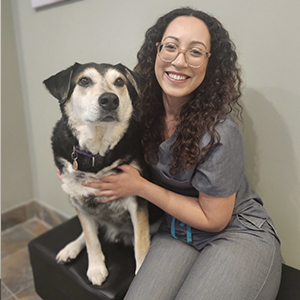 Emily – Veterinary Technician
Emily joined the veterinary field after obtaining her BS in Biology from The Rochester Institute of Technology. She joined BAH in the summer of 2022 after relocating to Boston from Baltimore and brings years of experience to our team at North Station. Emily has had a lifelong passion for animals and particularly enjoys working with nervous pets to make their vet visits as stress free and positive as possible. She enjoys hiking, thrifting and collecting plants, and has two kitties at home; Kobe and Oliver.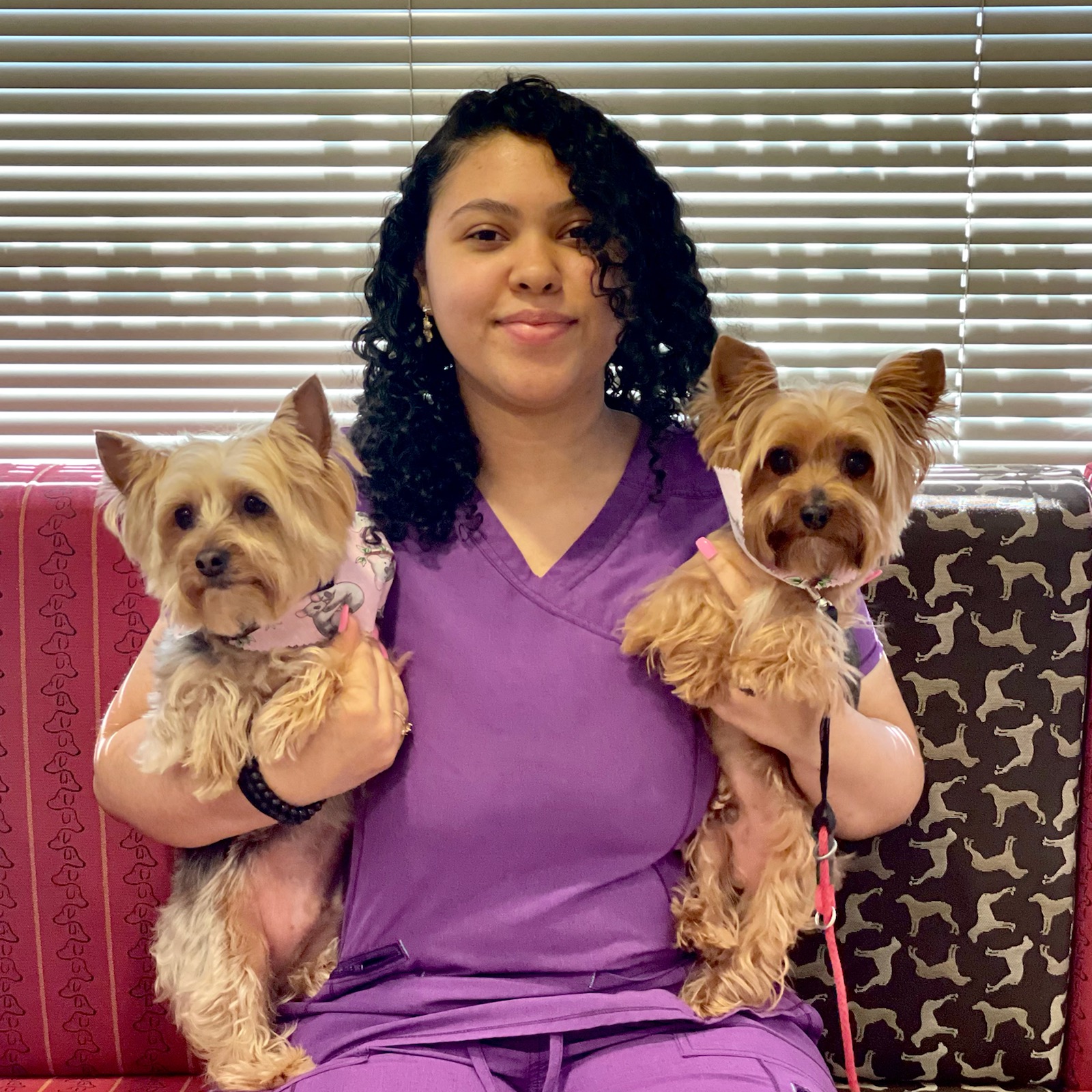 Sacaria – Veterinary Assistant
Sacaria joined BAH in August of 2020 completely new to veterinary medicine. She is currently pursuing an associate degree in veterinary technology, and has advanced her knowledge and skills to her current position as Veterinary Assistant. Her drive to learn while caring for animals comes from a lifelong desire to work in the veterinary field. When not at work, Sacaria enjoys fashion and art and is particularly talented in make-up, hair and nail design. Her furry family members include two Yorkshire terriers; Sydney and Mr. Tibbs, and in 2023 Sacaria adopted our hospital cat Paul!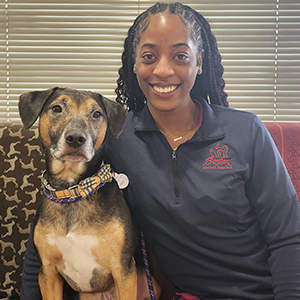 Lauryn – Veterinary Assistant
Lauryn started working with pets in 2020 and joined BAH in late 2021. After spending her childhood trying to rescue all the stray pets in the area, she knew veterinary medicine was her calling. Lauryn enjoys the education she's gotten from getting to care for pets every day and plans to pursue her certification as veterinary technician. In her spare time, Lauryn enjoys trying new restaurants in Boston & Reading, and has strong interests in marine biology and chiropractic therapy in animals.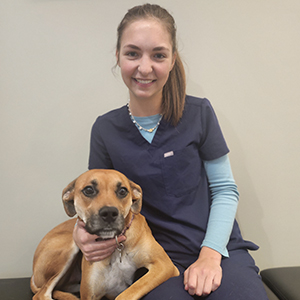 Ali – Veterinary Assistant
Ali started working in the veterinary field at just 16 years old and is currently attending Fisher College in a pre-vet program with the goal of attending vet school after graduation. Ali works part-time at our North Station location while also being a full-time student. Her love of animals and strong interest in biology and medicine made the vet field the perfect combination for her. In addition to vet med, Ali is on the Volleyball team at school and has been playing piano for over 12 years When not at school in Boston, Ali lives in Florida with her family as well as her Maine Coon, Moby, and her calico kitty Maya.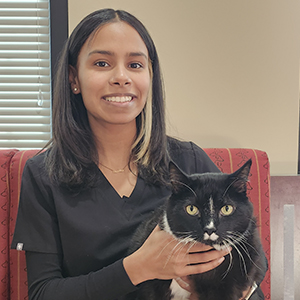 Emily – Client Care Coordinator
Emily joined BAH in early 2023, bringing with her years of experience in customer care and a desire to work with animals. She enjoys meeting our clients and patients and is committed to making sure they have a great experience. Although new to veterinary medicine, she is excited to grow and learn in the field. In her free time, she enjoys spending time with her daughter and her kitty, Luna.