Integrative / Holistic Medicine
Integrative medicine adds additional treatment modalities into what is typically offered during a vet visit. Integrative medicine works well for cases and conditions in which standard treatment methods are not eradicating the problem, so it recurs again and again, or conditions that become chronic and fail to resolve fully. Integrative medicine is also good preventative medicine, as it strengthens the patient's natural weaknesses and helps to restore balance in the body.
Dr. Kate has decades of experience treating patients with integrative medicine. She has earned certifications in veterinary acupuncture, Chinese herbal medicine, Chinese nutritional therapy, and TuiNa. Dr. Kate loves to explore and utilize the intersection between Eastern and Western medicine. She earned a master's degree in Traditional Chinese Veterinary Medicine (TCVM) while studying the effects of the herb astragalus (Huang Qi) on T cells. She has mentored many veterinarians learning TCVM and is a published author in the field of TCVM.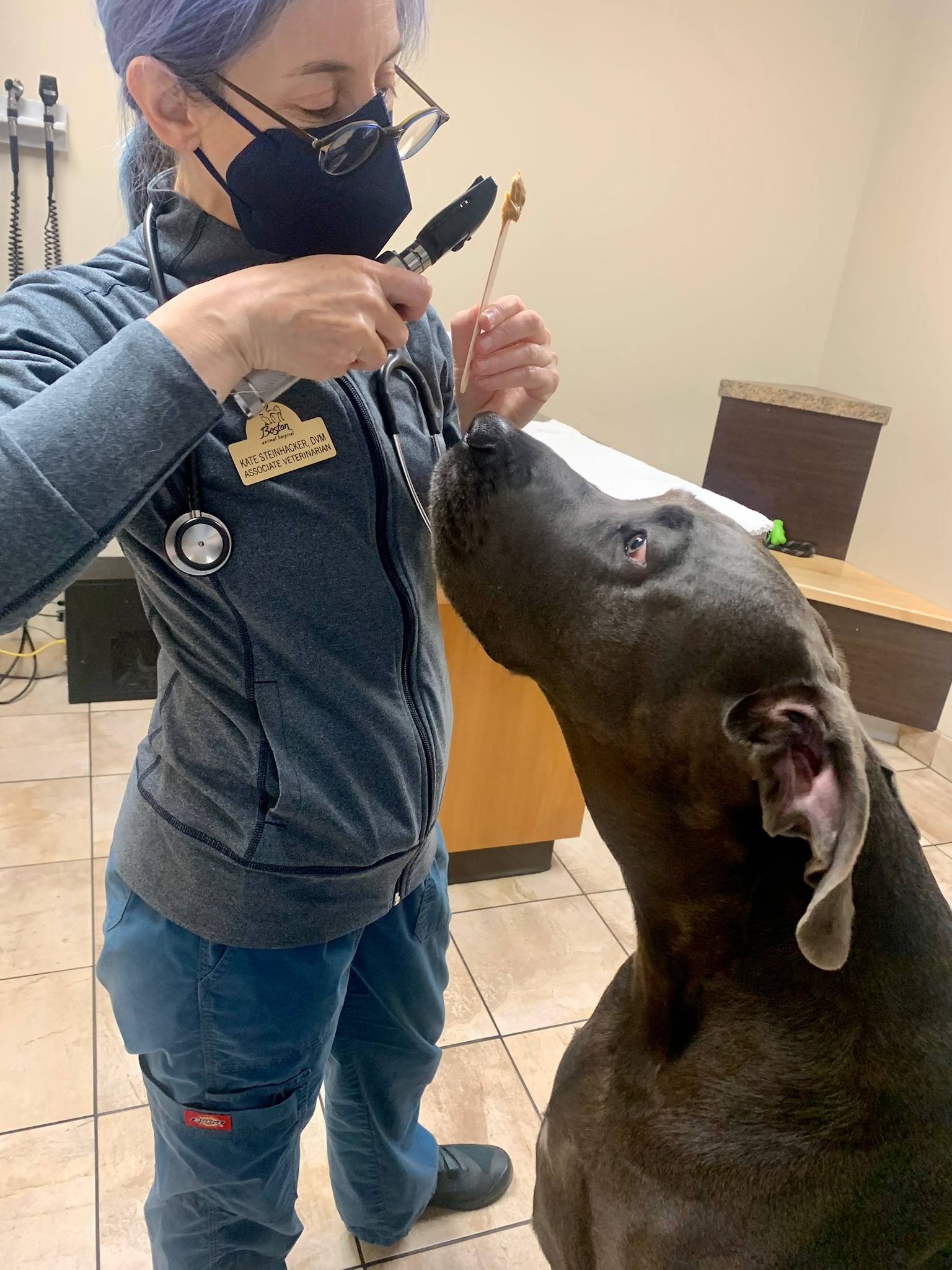 Kate Steinhacker, DVM, MS, CVA, CVCH, CVFT, CVTP, FAAVA Integrative Veterinary Practitioner
Each patient is an individual and must be treated with an approach that serves the patient's unique needs. To this end, Dr. Kate creates Superpowders for her patients. After examining a patient, Dr. Kate customizes a blend of supplements and Chinese herbal medicine(s) for that specific patient's needs. Each time the patient is re-evaluated, the blend may change as the patient's needs evolve.
What's in a Superpowder? The supplements may include one or more of the following: glandular extracts, enzymes, amino acids, minerals, vitamins, biologically active botanicals, antioxidants, and medicinal mushrooms. The Chinese herbal formula is chosen to treat the patient's specific imbalance. Superpowders work well together with standard medications and treatments.
Click for some examples of conditions that can be treated with Integrative Medicine
Allergies

Anxiety

Cancer

Canine Cognitive Dysfunction Syndrome (CCDS)

Diabetes

Thyroid conditions

Cushings disease

Gastrointestinal disorders

Heart disease

Kidney disease

Skin disorders

Urinary issues

Diarrhea

Seizures

And much more…